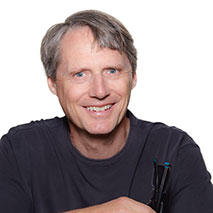 The Photographer
I've been shooting for over 30 years. For my commercial work, I've been particularly known for my lighting of reflective and translucent subjects. Many of the San Francisco Bay Area's leading corporations have utilized my services - either directly or through their designers and agencies. I have my own studio space, and would be glad to work with your next shoot.
For the past few years, I've gotten back to spending time on my personal work - primarily landscape photography. I'm entranced by what, and how the camera "sees"; and the difference of its vision from our own. Whether the colors in the Milky Way; the smoothed flow of a waterfall; or the crystalization of a wave; the camera can "see" some extraordinary things!
I'm a member of the SF Chapter of APA (American Photographic Artists), a retired ultra runner, a Miata enthusiast, and a proud father. Give me a call, or send an email, and I'd be glad to discuss the particulars of your job, or your desire for prints or licensing.
2019 APA Los Angeles - Off the Clock Juried Show, Exhibitor
2018 APA National Awards - First Place, Landscapes
2018 APA San Francisco - Something Personal Juried Show, Exhibitor
2017 APA San Francisco - Something Personal Juried Show, Exhibitor
2016 APA San Francisco - Something Personal Juried Show, Exhibitor