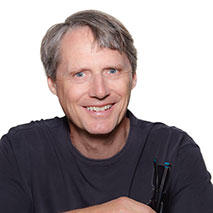 The Photographer
Jim Hildreth has been shooting for over 30 years. Known particularly for his lighting of reflective and translucent subjects, he has shot for many of the San Francisco Bay Area's leading corporations either directly or through their designers and agencies. He has developed a subspeciality of shooting extremely tiny objects - as small as 3mm, or 1/4" in size - beautifully, and with great depth of field.
Personal attention and responsibility are hallmarks of his studio. His skills in photography, photoshop work, prepress, and the web, allow him to be a one-stop-shop - from digital capture through to retouched, press or web ready files.
Jim is a member of the SF Chapter of APA (American Photographic Artists), a retired ultra runner, a Miata enthusiast, and a proud father. Give him a call, or send him an email, and he'd be glad to discuss the particulars of your job.